Mission Statement
"As we provide a full line of products for heating and air conditioning systems to contractors throughout the Western United States, we will instill a philosophy and culture of continued improvement in our company. Through growth, we will invest in our business to provide the tools for future opportunities. We will nurture and maintain the culture of a family owned business in which our employees grow financially, intellectually, emotionally and spiritually."
Hercules Industries is one of America's most efficient and dependable manufacturers and wholesale distributors of high-quality HVAC sheet metal products and equipment.
Founded in Denver in 1962 by William E. Newland, Hercules Industries is one of the largest companies of its type in the Western and Midwestern United States.  We operate four manufacturing facilities and seventeen sales and distribution centers in Colorado (Denver, Colorado Springs, Fort Collins, Pueblo, Grand Junction), Utah (Salt Lake City, Sandy), Arizona (Tempe, Phoenix, Flagstaff, Tucson, Surprise), New Mexico (Albuquerque, Roswell, Las Cruces) and Wyoming (Casper, Cheyenne), Texas (El Paso).
Hercules is still owned and managed by members of the Newland family, with the same dedication to excellence that has been our foundation of success for over five decades.
Since 1962, Hercules Industries has invested in customer relationships, manufacturing/distribution facilities and resources for our employees.
As Hercules Industries strives to supply a complete line of product ranging from HVAC equipment to all types of duct systems, we invest in our manufacturing growth providing opportunities in new markets.  
The investment in our manufacturing facilities since the early 80's has provided significant growth and allows us to better serve our customers on a daily basis. Through reinvestment in our business, we continue to offer the best line of HVAC products in the market:
Hercules MightyTough Sealants and Adhesives:  In 2012, Hercules released our first full product offering of Sealants and Adhesives.   UL181 certification and on-going research and development for our products has provided high quality sealants and adhesives for our customers.
Hercules Commercial Duct Fabrication: Since 1999, Hercules' Commercial Division has been fabricating standard and custom commercial and industrial sheet metal and fiberglass products.  We are also one of the Western U.S. largest steel processing centers.  The Commercial Division complements Hercules' residential sheet metal product manufacturing and is one of four Hercules production plants in five states.  Hercules meets the needs of our HVAC contractor customers – from the project take-off and estimating to delivery of finished product to the job site. 
Products include:
Single and double wall rectangular duct and fittings
Grease duct and other welded applications
Spiral pipe systems (Dura Flange joints or self-sealing gasket system)
Single and double wall spiral pipe and fittings, polyvinyl coated underground duct and fume exhaust systems
Flat oval duct and fittings
Fiberglass duct fabrication including sound boots
Shearing capabilities – up to 3/8" 12 Ft. mild steel
HVAC duct accessories and commercial equipment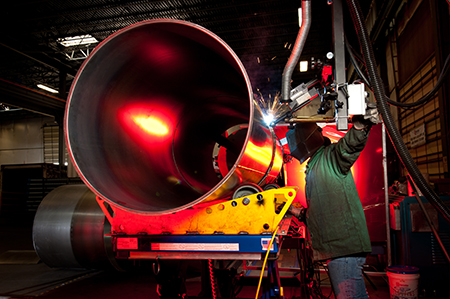 Hercules Engineered Products Division:  With our experienced estimators, we turn around  projects quickly, accurately, and with competitive pricing.  All this, along with  the quality products you expect from Hercules, provides peace of mind and strengthens your bottom line.
Automated Seam Welder: Hercules Industries now has the capability to create customizable projects using our Automated Seam Welder.  With Hercules' system, it's all done automatically to produce the exact product you need, ready for use.  Hercules can deliver factory installed angle rings for easy field installation.  The seam welder can be used to create grease duct, exhaust stacks, vacuum systems, laundry/linen chutes, large welding projects, duct collection systems, vehicle exhaust systems, fully welded venting systems, welded sleeves, and waste/recyclable material chutes.
Red Bud Line: Hercules invested in its Steel Processing Line with the purchase of the Red Bud Corrective Leveling Line.  The Red Bud line allows Hercules to process superior flat sheet products at a highly efficient rate. 
With our fleet of trucks, ranging from 12 and 23-foot stake beds to 53 foot semi-tractor trailers, Hercules Industries has the resources to deliver all products to customers in the Rocky Mountain West region.   We also utilize freight companies, FedEx and UPS for both national and worldwide shipments.    
From our largest wholesale customer to the smallest contractor, Hercules Industries has become recognized as the industry leader in the Western and Midwestern United States.
If you are already a customer of Hercules Industries, we thank you for your continued patronage.  If you haven't yet discovered the many benefits of doing business with us, we invite you to try Hercules for your next order.  You'll be joining the thousands of satisfied commercial and residential contractors who stake their reputation on the quality of our products and services.
If you have any questions, call us at 1-800-356-5350 or email us at info@hercmail.com.   Again, thank you for your interest in Hercules Industries.